To view this post in PDF format please follow this link: Industry Update February 2016 – The Year Ahead
2016 is now well and truly upon us with all staff back on deck. Typically reflections are reserved for the latter part of the year, so we thought we would take the opportunity to look forward and advise our clients on what to expect for the year ahead. 
Local Government Elections
The Local Government Elections are scheduled for 19th March 2016. Already there has been a number of news stories on the Brisbane City Plan 2014 and is quickly becoming a key election platform for all parties. Of particular note is the aspect of building heights and whether or not these have been enforced with enough consideration.  While increased scrutiny for planning applications in the lead up to an election is not new, it should be a consideration for those looking to lodge applications in the lead up to March.
New and Amended Planning Schemes
Over the last 12 months a number of planning schemes have been adopted, amended or publicly advertised.  Those in their final stages, or that have been adopted in the last 12 months are listed below.
For some Councils this is the final step since the local government amalgamations with one planning scheme now guiding development for the local government area.
Over the next few months as these schemes are used in the assessment of applications, there are likely to be minor or major amendments. These amendments may result in changes to the assessment processes or interpretations of a proposal. In the event that these sorts of changes do occur, for a period of 12 months after this change/adoption of a planning scheme, a person may lodge a superseded planning scheme request. This request is given to Council to ask that they assess the application based on the "previous version" of a planning scheme.  We will provide more information on this in our next Industry Update.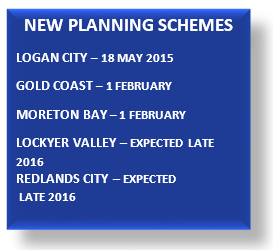 Online Mapping Tools
The adoption of new planning schemes has also resulted in an increase to the extent of interactive mapping tools available.  Logan, Gold Coast and Moreton Bay have all established helpful mapping tools allowing anyone to view the property report including overlay mapping to identify how their properties are affected. If you are considering developing a site, we recommend using these tools to provide you with some insights of the property's potential.  We can assist in the interpretation of these maps and the implications on development.
Gold Coast – http://cityplanmaps.goldcoast.qld.gov.au/CityPlan/
Brisbane – http://cityplan2014maps.brisbane.qld.gov.au/CityPlan/
Logan – http://www.loganinteractivemapping.com.au/
MBRC – https://mbrc.maps.arcgis.com/apps/webappviewer/index.html?id=a91756f396294148aa23f2673e6ca214
Want to know more about how these changes will impact the development potential of your property? Talk to one of our planners on (07) 3876 0533.