To view this post in PDF format please follow this link: Industry Update_November 2015_Infrastructure Easements
DID YOU KNOW THAT COUNCILS AND DISTRIBUTOR-RETAILERS IN SEQ ARE REQUIRING EASEMENTS ON PRIVATE PROPERTY FOR THEIR INFRASTRUCTURE?
Recent policy change in SEQ now means that easements can be required on private property for a range of infrastructure and services, including:
Reticulated sewerage;

Water supply; and

 

Stormwater infrastructure.
What impact does an easement have on my land?
An easement is a note on title granting an entity other than the landholder certain rights to the land (or a part thereof). In Queensland, the creation and registration of easements is regulated by Division 4 of the Land Title Act 1994. While the landholder still retains ownership of the land, the beneficiary can impose easement conditions which restrict and/or allow certain activities within the easement area. For example, an easement may be required over a sewerage main in favour of an infrastructure provider. The associated easement conditions can then allow the provider to enter the property in order to undertake maintenance or repairs as required.
Who is responsible for infrastructure provision in South East Queensland?
There are several different infrastructure providers responsible for the provision of services within SEQ. For the provision of sewerage infrastructure and water supply, these providers operate across two levels of government as demonstrated below: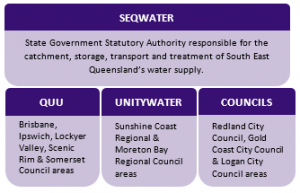 In contrast, each Local Council is responsible for the planning, provision and maintenance of their own stormwater infrastructure.
When are easements required for infrastructure?
Easements for infrastructure can be required as a statutory condition of a development approval. Easements for sewer and water supply are regulated by the SEQ Water Supply and Sewerage Design and Construction Code and are required for new or existing infrastructure located on private property.
For sewerage infrastructure, easements are required for gravity mains with a diameter of 300mm or greater:
300-600mm (max. depth 5m)  = 3.0m wide easement
300-600mm (min. depth 5m) = 6.0m wide easement
>300mm (min. depth 5m) = 10.0m wide easement.
Sewer rising mains require a 6.0m wide easement. Where a manhole is located on private property, a 1.0m easement is required along the length of the side boundary irrespective of the size of the associated main.
For water supply, easements are required for any main located on private property. A 6.0m wide easement is required for a reticulation main (a diameter of 300mm or less) and a 10.0m easement is required for a trunk main.
The easement requirements for stormwater differ between Council areas. For example, it is generally accepted that Brisbane City Council require an easement over any stormwater pipe exceeding 225mm in diameter.
If you would like to enquire about any potential easement requirements on your property, feel free to contact our planning team on (07) 3876 0533 or at charlotte@kenryanassoc.com.au.