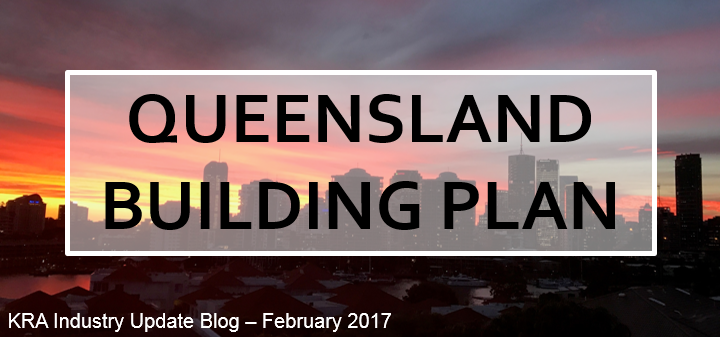 What is the Queensland Building Plan?
The Department of Housing and Public Works is proposing a Queensland Building Plan which is currently out for comment until 31 March 2017. There are a wide range of proposals that are currently open for discussion that could affect your business operations, timing and choices. Key proposals for the Plan are outlined below.
Introduction of a New 'Cab Rank' System for Assigning Building Certifiers Without Direct Consumer/Builder Engagement
The building owner would instead approach the QBCC and ask them to appoint a building certifier for their project at a regulated fee.
We strongly oppose this allocation of 'unknown' Private Certifiers given the potential lack of consideration of client needs, and associated impacts on project timings and costs.
Changes to the current building certification framework
Key changes to the certification framework include:
Introducing mandatory inspections for fire separation in dual occupancies and townhouse developments;
Increased technical auditing of building certifiers; and
Providing Local Governments with sole responsibility for taking enforcement action so certifiers will no longer do this.
A Single State-Wide Code, Known as the Queensland House Code, to Replace Existing Codes in Each Local Government Planning Scheme
By aligning both building and town planning assessments the code aims to provide guidance on how siting and design rules relating to dwellings, dual occupancies, multiple dwellings and other associated buildings and structures can be included in planning schemes. If a proposed dwelling complies with the code than submission to Council and town planning approval would not be required.
We have worked with H.I.A to seek this outcome with various local governments and if successful will be a major improvement that would eliminate delays and costs of unnecessary applications.  It has not been decided if the Code will become voluntary or mandatory for Local governments.
Changes to the Plumbing and Drainage Act to Streamline the Permit Process and Restructure and Rewrite :Legislation to Provide Simpler Laws
Changes to the permit process would involve mandating a maximum two day approval for plumbing work on detached homes. Applications would be divided into two stages including Fast Track Applications and Standard Applications. As some Council's throughout Queensland have already implemented a fast track process, introducing these changes would see a consistent fast track process state-wide.
Licencing Reforms, Including a New Licence For Roofing
This licence proposes the scope of works for installing metal roofing to become regulated plumbing work in Queensland. An individual with a current license that covers metal roofing would be able to continue doing so however an individual without a current license wanting to undertake such work would be required to do a plumbing apprenticeship to obtain the licence. We believe this additional demand on plumbers will delay projects and escalate cost on work that has been functioning well for many years.
Have Your Say!
State-wide consultation sessions are being held throughout February with consultation in North Brisbane on 21 February 2017. These sessions will provide an opportunity to express interest or concern for the building plan proposals. For more details on other times and locations or to register for a session please click here.
Want More Information?
If you would like to read and know more about the Queensland Building Plan or to make a submission click here, or contact Doug from our office on (07) 3876 0533.
Keep up to date with KRA!
Check out our latest Instagram posts! Follow us here.
To view this post as a PDF, click this link: 170221_February_Blog PDF File.